Owner Drivers Initiative – Mike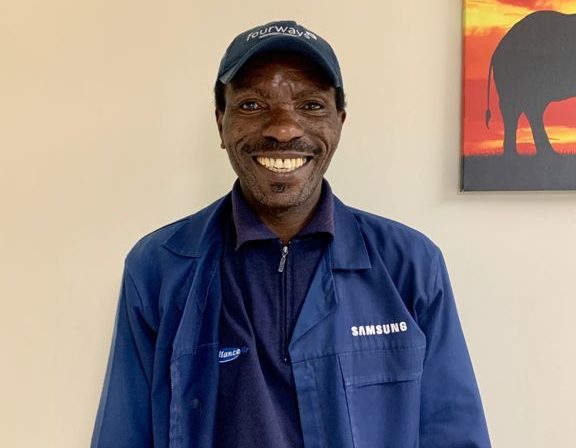 Mike Mudau Starts His Own HVAC Delivery Business After 18 Years With Fourways
If there was ever a man who personified the statement that "dreams don't have deadlines", it would be Fourways Group's very own, Mike Mudau. After 18 years of service, Mike decided to chase his entrepreneurial dreams and is now the proud owner of his own business, Vhadau Movers (Pty) Ltd that specialises in the transportation and delivery of goods.
In gratitude for Mike's dedication and loyalty throughout the years, Fourways Group gifted Vhadau Movers (Pty) Ltd its first business delivery vehicle, which now provides swift delivery services to authorised air-conditioning companies that purchase products from Fourways Group. Any product from small residential units to large commercial DVM units is all part of what Vhadau Movers can transport and deliver across the country.
"I can't even explain how I feel. What Fourways is doing for me is more than what I could ever ask for, I feel deserving and honoured," said Mike. He affirms that this opportunity will open doors for a lifetime so that he creates employment for others and leaves a legacy for his family.
Mike's journey with Fourways Group began in 2002 where he served as a casual customer service agent. In a few short years, he progressed to Spares Supervisor and then Driver for Fourways Pretoria, a position that inspired the then-budding businessman to push harder to make his own goods delivery company a reality someday.
"Wherever the customer requested their stock delivered I would ensure that it was delivered to those areas, to meet their needs. Every customer is valuable, I always strive to satisfy customer needs and deliver good service", said Mike. A proactive man by nature, he also developed an inspection checklist for Fourways drivers to inspect their vehicles through weekly and monthly assessments to ensure that company vehicles remain in good condition to ensure timely delivery and save company costs.
That mindset, together with the business skills and accounting resources that Fourways is providing to help Mike properly manage company costs and run a profitable business, will serve Vhadau Movers well. Mike's goal is to build further onto his business, with the hopes of expanding into a more established transport entity servicing a wider network of clients in the future.
Mike's vision for Vhadau Movers is to eventually become a leading reliable service delivery company within the air conditioning industry, servicing clients not only locally but also into South Africa's neighbouring countries like Botswana, Mozambique and Swaziland. He hopes to establish the business as the preferred choice service provider rendering on time, professional and friendly service to his clients at all times.
Fourways Group is proud to be helping Mike live his dream through our Fourways Staff Initiative Programme designed to help long-time and loyal employees reach their full potential. We wish Mike the best of luck in this exciting new venture!